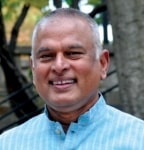 Software Strategizer – Ashok Nalamalapu – I.T. solutions pioneer.
In less than 20 years, he's helped change high-tech in Maine
Interview by Colin S. Sargent
Since Ashok Nalamalapu founded iCST, in his words "a global information technology staffing and software testing company," in 1996, it's grown steadily and has a 95 percent customer renewal rate. Nalamalapu, 55, received Maine's Minority Small Business Person award in 1999 and 2005; he's on the board of TechMaine and United Way of Greater Portland. Still another dimension: He was an honored speaker this July at Maine Yogafest 2014.
How would you say your spiritual journey affects your business? Your leadership?
I founded iCST from a room in my attic. It was able to fund more than $100,000 to Sadhana, a spiritual center I founded in 2010. Volunteering most of my time for Sadhana created challenges at iCST in 2012. Since then, I've been striving to balance my time and energy. Since 2013, iCST has grown by 78 percent…
My spiritual journey has helped me maintain equanimity in different situations, reflect more, trust more and delegate more. By practicing yoga and meditation, I'm able to pause, reflect, and not react hastily to situations. It helps me to make requests and not demands.
Recently there's been a movement to allow yoga classes as alternative physical education in some public schools. Good idea?
I've been practicing yoga (Asanas or postures) since 2000. It's helped me tremendously while going through the peaks and valleys of life, including regaining my voice after losing it completely for one year in 2000–a stress-related vocal-cord paralysis.
In her second year of college, my daughter Denali is taking yoga classes for which she gets Physical Education credit. This helps her rejuvenate after hours spent studying or in the classroom. By practicing yoga, young students gain many benefits in addition to being physically fit. With their improved concentration, they can study better, learn better. My younger daughter, Vishva, has been meditating for a few years in middle and high school. Introducing meditation at a young age would be beneficial for other young students as well.
You were a very strong supporter of the initiative to get laptops to every school child in Maine. How important is early access to technology?
I'm glad I testified in front of the legislature and supported the laptop initiative. Senator King and Maine took the leadership by providing laptops. Access to technology at a young age prepares students to be more successful in high school, college, and later on in life. It helps those who can't afford to buy technology be at the same level as students who can. It's also opening a big window–an innovative approach to 'learning outside the classroom.'
What's so enchanting about Sadhana?
Sadhana's mission is serving all in realizing happiness and cultivating compassion through spiritual practices. I love Sadhana (sadhaname.com) because it brings people together irrespective of beliefs or economic status. Currently we're offering devotional chanting by our band and guest artists from around the U.S. and meditation workshops.
How do you push the window open to explore personal interests?
I enjoy singing sacred chants and playing the harmonium. Our band, Swan Kirtan, has talented musicians and plays every other week. I love spending time with my daughters. I enjoy public speaking. I was trained by Dale Carnegie Maine and Toast Master in public speaking. I speak at schools, churches, and festivals on various topics. I've served as master of ceremonies at large yoga and chanting festivals in the U.S., including the largest such festival in the world, Bhakti Fest of Joshua Tree, California; Omega Ecstatic Chant Fest of New York; Denver Chant Fest; and Boston Yoga and Chant Fest.
When I lost my voice for a year, I started writing for newspapers and magazines, which I enjoy. Traveling to a new country every year is also one of my hobbies. I practice yoga four times a week, meditate daily for an hour.
Who are your role models?
Swami Vivekananda for his spiritual leadership; Senator Angus King for his people skills; Gandhi and Mother Teresa for their selfless service; presidents Clinton and Reagan for their public-speaking skills; and Ben Franklin and my late father, Seetha Reddy, for their hard work. Through what I learned from my father about hard work and dedication, I've settled into a comfortable life–after coming here to the U.S. with only $100 in my pocket. Another role model is Sri Ramakrishna because of his simplicity and message that all religions are good.
What's one trait you like about yourself?
I strive for compassion–to consider others' feelings and needs. This helps me to be more empathetic.
How has your personality changed across the years?
I used to be Type-A, aggressive in achieving what I wanted. Now I'm more relaxed and let things take their own course without interfering. I used to work more from my mind. Now I give importance to my heart as well.
Who and what changed your personality?
Swami Vivekananda and his master Sri Rama Krishna made a big impact on me. Losing my voice, having difficult times at iCST, and developing Sadhana have taught me various lessons. Having children and raising them has helped me to be a more loving person.
View more info : https://www.portlandmonthly.com/portmag/2014/10/ten-most-intriguing-2014/